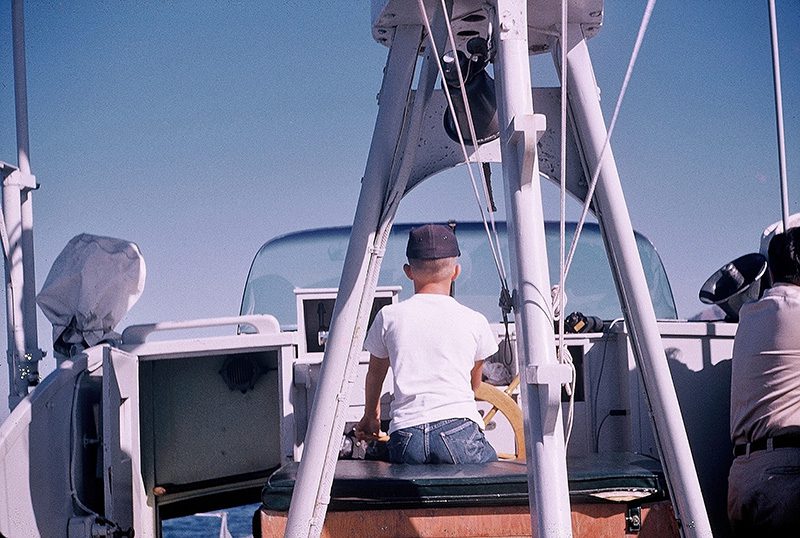 A Trip to the Islands
I first experienced California's Channel Islands in 1959, as an excited eleven-year-old passenger aboard the Fish and Game patrol boat Marlin. My father, California Fish and Game Warden Wally Callan, was the Marlin's rookie boarding officer, responsible for patrolling California's offshore waters from the Mexican border to Point Conception.
It was 6:00 a.m. in mid-October when we parked at the Seal Beach Marina and I followed my father down the dock to the Department of Fish and Game boat slip. After almost a year of begging to come along, I was finally getting my chance. My head was filled with stories that my father had told about seeing whales and dolphins on his patrols to the Channel Islands. Now it was my turn, and I couldn't wait. We were about to set out on a three-day, two-night ocean adventure I would remember for the rest of my life.
"Where's the boat?" I asked, rushing ahead.
"Slow down and wait for me," said my father. "Be careful you don't trip and drop your suitcase in the water."
The wooden dock squeaked and groaned under our feet as we passed row after row of incredibly expensive yachts.
"Do these boats all belong to movie stars?" I asked. "Look at the size of that one!"
"Quiet down. Ours is the big gray one up there on the right."
"Wow, is that a PT boat?"
Still painted Navy gray, the Marlin was a sixty-five-foot converted U.S. Navy LST boat, with an engine capable of accelerating from eight to forty knots in a matter of seconds. Would-be violators had little chance of outrunning this old girl. . . .
This is an excerpt from my sequel, THE GAME WARDEN'S SON, published by Coffeetown Press. THE GAME WARDEN'S SON is currently available on Amazon.