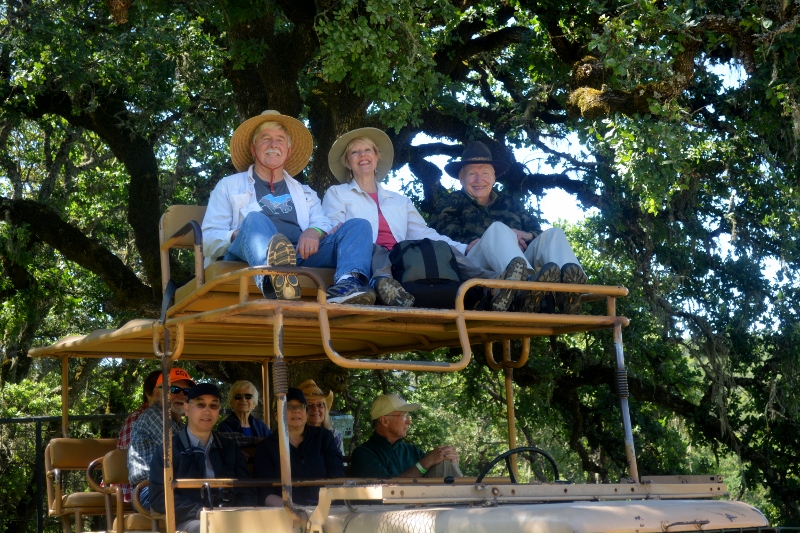 On Safari
With camera in hand, Kathy and I have spent much of the last thirty years enjoying nature and searching for wildlife wherever we could find it. We've meandered through mountains, marshes, and meadows in seven states; we've trekked across deserts in California, Arizona, and Nevada; we've kayaked with great whales in Monterey Bay; and we've dived to the depths of the ocean in California, Hawaii, Key Largo, and the Caribbean. One place we've never gone in search of wildlife is Africa.
The idea of going on an African safari has always intrigued us. Many of our friends have traveled to Africa and returned with incredible stories about their adventures: seeing elephants and hippos on the floodplains and savannas of Botswana; being up close and personal with the great mountain gorillas of Uganda and Rwanda; experiencing the famous wildebeest migration across the crocodile-infested Mara River; and marveling at the breathtaking beauty of Victoria Falls, Ngorongoro Crater, and the world-famous Serengeti.
"So why haven't you gone?" our friends have asked. I've always been able to come up with a few reasonably good answers: It takes a lot of time and effort to plan a once-in-a-lifetime trip like that. Two to three weeks in the places I mentioned could set us back twenty thousand dollars. What about the dreaded tsetse fly?
Back in May, I came up with a temporary solution to our African predicament, until such time as we were prepared to throw caution to the wind and take the plunge. I had received an itinerary for the Outdoor Writers Association of California spring conference in Santa Rosa. Among the activity choices for the second day of the conference was a two-hour guided tour of a wild-animal park called Safari West. I jumped at the opportunity and signed us up.
Safari West was established in the 1980s, when a wildlife-lover named Peter Lang converted a 400-acre cattle ranch in the rolling foothills north of Santa Rosa, California, to a wildlife preserve and conservation breeding facility. Concerned about critically endangered species, Peter worked closely with the San Francisco Zoo. Nancy, the zoo's lead curator and raptor specialist, shared Peter's passion for wildlife, leading to a match made in heaven. Peter and Nancy Lang would go on to create one of the finest privately owned and operated wildlife preserves in the country. The mission of Safari West is "to actively promote conservation and environmental education, while sharing knowledge that empowers each individual to think sustainably about their role in the environment and the world at large."
Having inspected privately owned wild animal facilities during my years in Southern California with the Department of Fish and Game, I was a little skeptical at first. Were their animals healthy, well cared for, treated humanely, and maintained in clean, spacious enclosures? Were their guides knowledgeable and enthusiastic? Did the owners and their employees live up to their mission? In every case, the answer was a resounding yes.
Our ride through the park turned out to be a non-stop adventure—the next best thing to an actual African safari, at a fraction of the price. Stretching our imaginations, Kathy and I pictured ourselves riding across the Serengeti, feasting our eyes on large African mammals at almost every turn. We saw wildebeest, roan antelope, sable antelope, cape buffalo, eland, gazelle, gemsbok, and giraffe, just to name a few. All of the animals appeared healthy and, with a few necessary exceptions (the rhinos), running free. Along the way, we learned everything there is to know about these magnificent creatures from our expert guide, Alex Coburn.
Right from the start, it was clear that Alex knew his stuff and enjoyed his job. While constantly entertaining us with stories about wildlife and the park, he answered every question correctly and with enthusiasm. Our only regret was how quickly the time flew by. Our two-hour adventure ended way too soon.
Next time you're in the mood for a fun-filled outdoor adventure here in Northern California, check out Safari West. We had a ball!
This piece originally appeared in my September 6, 2018, "On Patrol" column in My Outdoor Buddy and Nor Cal Fish Reports. It has been modified for posting on this blog.