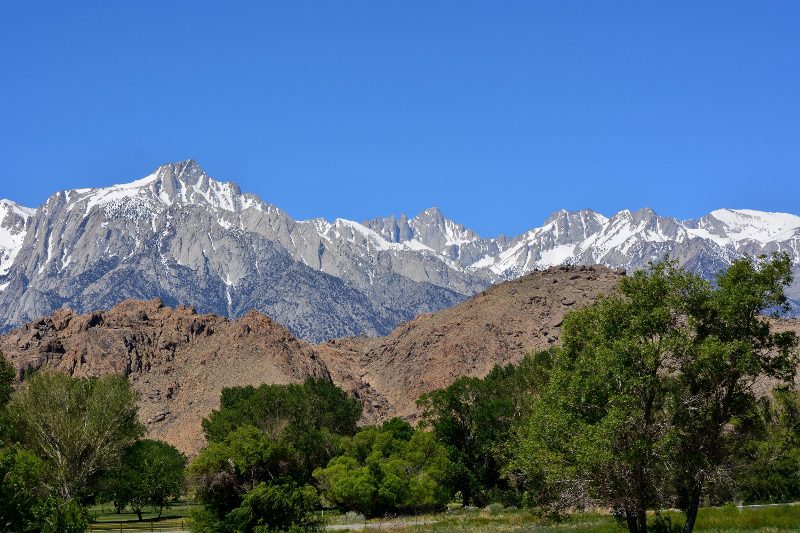 Revisiting the Eastern Sierra
My first opportunity to visit California's magnificent Eastern Sierra came in late April 1975, while I was a young Fish and Game warden stationed on the Colorado River. During the next three and a half years, I was sent to the Eastern Sierra six more times. My assignments included working the opening weekend of trout season at Crowley Lake, the opening weekend of deer season near Walker, and covering the June Lake Loop while district warden "Bigfoot" Johnson was on vacation. Regardless the duty, I couldn't wait to go.
I contacted thousands of hunters and anglers during those unforgettable adventures and uncovered dozens of fish and wildlife violations. What I remember most, however, was the breathtaking Eastern Sierra scenery that captured my imagination and has remained in my thoughts all these years.
How could I forget majestic Mount Whitney looming over Lone Pine? As I headed north on Highway 395 for each patrol assignment, this sentinel of the Sierras signaled that I was nearing my destination.
Just outside of Independence, I would come to historic Mount Whitney Fish Hatchery and often remarked that this man-made landmark could easily pass for a medieval castle. I learned that since its construction in 1917, the hatchery had been responsible for propagating California's state fish, the golden trout, and planting it in High Sierra lakes.
Seeing picturesque Convict Lake while on assignment in the Eastern Sierra reminded me of a fishing trip my father and Uncle Ralph had taken in 1956. After camping on the shores of the lake for three days, my father returned to regale his eight-year-old son with tales of trophy brown trout longer than a grown-man's arm.
Crowley Lake, on the opening day of trout season during the 1970s, was like nothing I'd ever witnessed before or since. I wrote about this storied Owens River reservoir in my first book, Badges, Bears, and Eagles:
When the sun began to rise on opening morning of trout season, Dave Szody and I were perched on a bluff overlooking Crowley Lake. "You have to see this," I said, handing Szody a pair of binoculars. "There must be a fishing rod every three feet all the way around that lake. How would you like to check all those fishing licenses?"
Snow-covered peaks, sparkling streams, and trout-filled lakes with names like June, Grant, Lundy, and Virginia dominated the landscape as I would continue north on Highway 395.
Reaching Bridgeport, I marveled at the immensity of Big Meadow and couldn't help noticing the Mono County Courthouse as I drove through town. Built in 1880, the historic building was made famous by a 1947 Robert Mitchum movie titled Out of the Past. A few days later, I found myself sitting in the court's witness chair, testifying against two men who had taken an obscene overlimit of grayling in nearby Lobdell Lake.
This past April, long after I'd retired, Kathy and I had a chance to relive some of my adventures in the Eastern Sierra and create some new ones of our own: The Outdoor Writers Association of California (OWAC)  held its spring conference in Bishop. On the second day of the conference, attendees spread to the wind in an effort to learn everything we could about this outdoor wonderland.
Several members of our group decided to try their luck finding the elusive Sierra Nevada bighorn sheep (Ovis canadensis sierra). Listed as endangered by the federal government and the State of California, this iconic subspecies once roamed much of the Sierra. By 1995, population estimates indicated that fewer than one hundred animals remained, their decline attributed largely to contact with domestic sheep (disease) and predation. Today, due to the tireless efforts of the California Department of Fish and Wildlife and the U.S. Fish and Wildlife Service—guided by the Sierra Nevada Bighorn Sheep Recovery Plan—Sierra Nevada bighorn numbers are estimated to be over 500.
While others searched for bighorns, Kathy and I had something else in mind. Thanks to Tawni Thomson and the Bishop Area Chamber of Commerce, we were treated to a guided tour of one of the U.S. Bureau of Land Management's most sacred treasures, Fish Slough. Lying in a transition zone between the Mojave Desert and the Great Basin, Fish Slough is a 36,000-acre "Area of Critical Environmental Concern" in a prehistoric land of wetlands, desert sands, and odd-shaped volcanic rocks—just a ten minutes' drive from Bishop.
Our guides for the day were outdoor photographer Ron Oriti and his vivacious wife, Barbara. Ron and Barbara began our tour by showing us dozens of wildlife photographs they had taken in the immediate area around Bishop. I was amazed by the number of raptor species that visit the area during different times of the year.
"There's always something to see," said Barbara. I noticed that Ron's camera and 500 mm lens rested in his lap as he drove, always at the ready should an interesting bird, rare reptile, or colorful dragonfly suddenly appear. Due to cool temperatures and gale-force winds, most of the area's wildlife was in hiding, but endless wildflower displays and the fascinating tablelands kept our camera shutters popping throughout the day.
So enamored were Kathy and I with the area that we returned to Bishop two months later and continued our adventure. Our first stop was Fish Slough. With warmer temperatures and no wind at all, we experienced this remarkable area under more favorable conditions. Along the way, we spotted a variety of reptiles, numerous bird species, and even a desert pupfish.
The next morning, Kathy and I headed for the high country. Lundy Canyon was our first destination, where ambitious beavers had tamed raging Mill Creek, turning it to a series of reflection pools peacefully flowing into Lundy Lake. While oohing and aahing at the waterfalls and the many wildflowers that grew along the trail, we came across a wonderful little rubber boa, which we photographed and relocated to a safe place away from foot traffic.
Driving back to the Creekside Inn  on our last evening in Bishop, we noticed the McGee Creek exit, west of Crowley Lake. "Let's drive up to the end of the road," I said. "It's been forty years since I've been up there."
"Great idea!" said Kathy.
What we found surprised us both. "It looks like those photographs I've seen of the Swiss Alps," I commented. Next trip we must walk that trail to the head of the canyon."
"When will that be?" said Kathy, eager to return.
"How 'bout this fall? The water level should be back to normal by then and maybe I'll bring along my fishing . . ."
You can create your own outdoor adventure in California's Eastern Sierra by visiting the online Bishop Visitor Information Center.
This piece originally appeared as my July 7, 2017 "On Patrol" column in My Outdoor Buddy and Nor Cal Fish Reports.