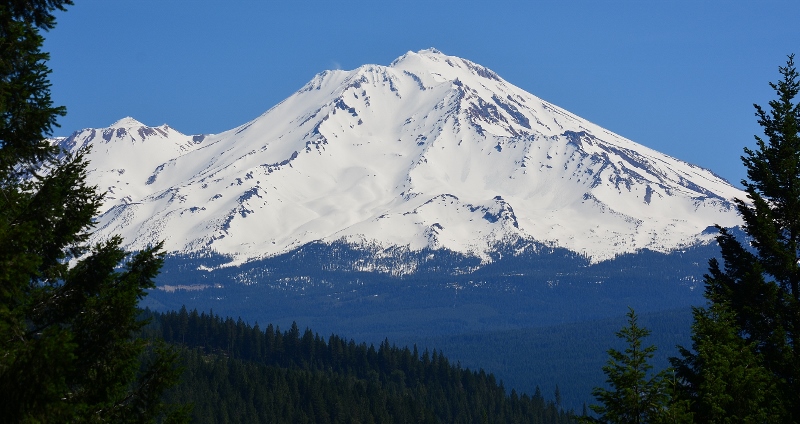 Siskiyou County: The Land Beneath the Great White Mountain
When the Outdoor Writers Association of California chose Siskiyou County as the site for this spring's writers conference, I couldn't have been more pleased. I've had a soft spot in my heart for this unspoiled land at the top of the state since I first discovered it fifty-three years ago.
I had just graduated from Orland High School and was scheduled to enter Chico State College in the fall of 1966. A letter from the California Department of Fish and Game's Region I Fisheries Office arrived, announcing that I had been approved as one of four seasonal employees to work at the historic Mount Shasta Fish Hatchery  that summer. The letter went on to say that housing for seasonal employees wasn't available at the hatchery, but a woman in the nearby city of Mount Shasta offered room and board. I telephoned the number provided and spoke with a kindly, middle-aged woman who operated what is today the picturesque Strawberry Valley Inn.
Arrangements were made for me to share a room on the top floor of the remarkable stone house, built in 1924, that now serves as the inn's office and dining room. My roommate, a third-year college student and fellow seasonal hatchery employee, liked to stay out late at night and return after our landlady had gone to bed. To avoid causing a disturbance, he would clamber up a tree next to the building and enter by squeezing through the small window you see in the photo. The tree my roommate climbed is no longer there, and, based on my memory, the door and covered stairway must have been added at some future date. Years later, my wife, Kathy, and I would enjoy staying at the Strawberry Valley Inn while taking advantage of the many outdoor activities Siskiyou County has to offer.
My friend and mentor for the summer of 1966 was an elderly gentleman named Rube Davenport. Rube had worked at the hatchery for over forty years and lived across the highway in the city of Mount Shasta. To this day, I point out Rube's former home every time Kathy and I drive up Mount Shasta Boulevard. What I remember most are the colossal earthworms that thrived beneath Rube's lawn and poked their heads out every night after the sun went down.
That summer, Rube taught me everything I needed to know about raising fish. Mostly, I mucked (cleaned) the raceway ponds and loaded trout into the planting trucks, but one of my duties was cleaning a circular display pond occupied by two sturgeons and a rare three-foot-long trout with yellow spots.
Not everything I learned from Rube Davenport involved work. He also taught me where and how to catch fish within a few miles of the hatchery. After work and on my days off, I'd sneak down to Brown's Pond, catch a ride up to Castle Lake, or toss a line into the babbling little brook that flowed south from the hatchery into what was then the undeveloped Brownshasta Ranch. I remember catching and releasing small brookies in Castle Lake, good-sized rainbows in Brown's Pond, and gorgeous eight-inch browns in the stream.
Brown's Pond was a source of high adventure for this eighteen-year-old looking for something to do on a hot Sunday afternoon. Using a face mask and snorkel, I'd silently approach unsuspecting Western pond turtles from underwater as they sunned themselves on floating logs. My improvised game worked surprisingly well, providing hours of amusement and allowing me to observe these fascinating reptiles up close and personal. Today, Western pond turtles are protected in California. Due mostly to habitat loss, they are listed as a "species of special concern."
When the summer of 1966 finally ended, I went off to college, followed a career in law enforcement with the California Department of Fish and Game, and spent several years in Southern California before returning to the North State in 1981. It was then that I rediscovered Siskiyou County and introduced Kathy to its many natural wonders.
During the mid-eighties and early nineties, while living and working in Shasta County, I looked forward to driving up to Dunsmuir every June and playing in the Railroad Days Softball Tournament. The tournament was scheduled in conjunction with the City of Dunsmuir's annual Railroad Days  celebration and played in the historic Dunsmuir City Ball Park. I remember the entire town sitting in those creaky old grandstands, watching us play on the same field where Babe Ruth had played an exhibition game in 1924. Ruth is reported to have been so enamored with Dunsmuir and its citizens that he wrote a letter  to express his appreciation.
A baseball's throw from the Dunsmuir City Ball Park, on the east bank of the Upper Sacramento River, are the spectacular Dunsmuir Botanical Gardens. Kathy and I make it a point to visit the gardens every time we pass through Dunsmuir. This year, the dogwoods, azaleas, and rhododendrons have outdone themselves with their dazzling displays.
Whenever Kathy and I are in the Mount Shasta area around dinnertime, we also make it a point to dine at Mike and Tony's. An institution in Siskiyou County, Mike and Tony's restaurant first opened its doors in 1945 and still serves out-of-this-world American and Italian dinners today.
When it comes to providing opportunities for outdoor adventure, Siskiyou County is a giant treasure chest, filled to the brim with national forests, national monuments, national wildlife refuges, state wildlife areas, parks, lakes, streams, mountain peaks, and historic destinations begging to be explored. I've selected four gems for this article.
The best-known treasure of all is 14,180-foot Mount Shasta. Having grown up in the Sacramento Valley, I'll never forget the first time my family rode north on Highway 99W in the family car and spotted that majestic, snow-capped peak staring down at us from 120 miles away. Over the years, Mount Shasta's picture-perfect image has been photographed millions of times and printed on untold numbers of product labels—water bottles, soda cans, and T-shirts. The subject of legend, this active volcano draws skiers, hikers, mountain climbers, and curiosity seekers from all over the world.
Not quite so visible, but every bit as remarkable, is the Marble Mountain Wilderness. Established by Congress in 1964 and located sixty miles southwest of Yreka, the Marble Mountain Wilderness contains over 241,000 acres of lush green meadows, sparkling streams, and high-mountain lakes. If you like hiking, camping, and trout fishing far from the hustle and bustle of everyday life, this diamond in the rough is just what the doctor ordered.
I have frequently referred to streams as nature's sacred jewels, to be cherished and protected. Siskiyou County is home to one of the most famous jewels of all, the McCloud River. A fly-fisherman's paradise, the McCloud River is best known for its fabulous waterfalls, turquoise-blue water, trophy trout, and Wyntoon, the privately owned Hearst estate where Gary Cooper and other 1930s-era movie stars came to play and relax.
Few people know that the McCloud River was once the only stream in California where Dolly Varden trout, later reclassified as bull trout (Salvelinus confluentus), were found. Numbers of this rare species in the McCloud eventually dwindled to zero, but, before they did, one exceptionally large specimen was caught at the Hearst estate. Thanks to my old friend Rube Davenport, the fascinating true story of how this famous trout ended up in the display pond at the Mount Shasta Fish Hatchery is tucked within the pages of my first book, Badges, Bears, and Eagles.
Over the years, Kathy and I have become avid birders. We've traveled all over the Western United States photographing our feathered friends and searching for new bird species to add to our life list. Siskiyou County is the gateway to a plethora of wonderful birding sites, including Tule Lake National Wildlife Refuge, Lower Klamath National Wildlife Refuge, Shasta Valley Wildlife Area, and Butte Valley Wildlife Area.
Our favorite birding site of all is the Butte Valley Wildlife Area. We've found that the best time of year to visit this 13,400-acre avian wonderland is between the first of February and the end of May. If you visit on a weekday and arrive early, chances are you'll have the entire auto-tour route to yourself.
Drive slowly, stay quiet, and above all, remain in your car. If you do, you're likely to have the time of your life viewing and photographing waterfowl, songbirds, sandhill cranes, and a half-dozen raptor species. Visitors who are sixteen or over must possess a current California Department of Fish and Wildlife Lands Pass, a current California Fishing License, or a current California Hunting License.
Ever since my memorable summer working at the Mount Shasta Fish Hatchery in 1966, I've felt a personal connection with Siskiyou County—its history, its wildlands, and its unspoiled wide-open spaces. Realizing that growth is inevitable, I hope the places I've described in this article will always remain as they are today, so current and future generations will be able to enjoy the land beneath the great white mountain as much as I have.
This piece originally appeared in my July 12, 2019, "On Patrol" column in My Outdoor Buddy.