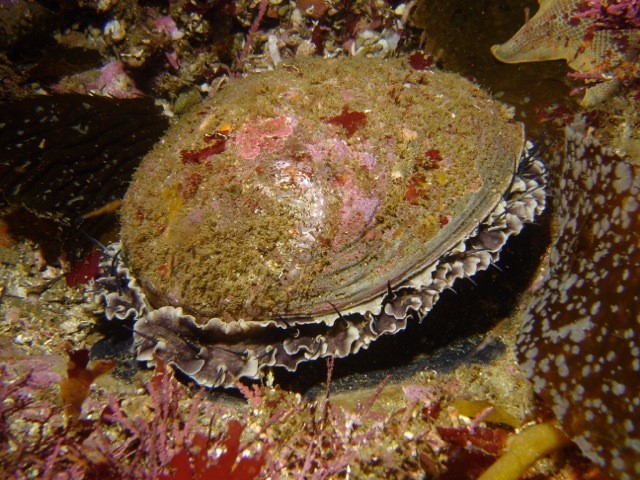 Tasty Morsels of Mollusk Goodness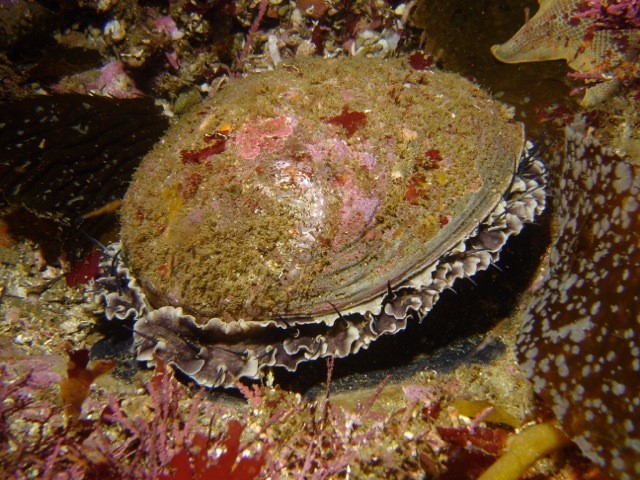 Saving California's remaining abalone fishery from money-hungry poachers is a daunting task. By telling the stories of dedicated wildlife officers in my upcoming sequel to "Badges, Bears, and Eagles," I hope to educate the public and, in some way, help conserve this precious resource for law-abiding sportsmen and future generations.  
Below are a brief history of this situation and some suggested ways you can help. 
Not so long ago, five species of abalone were commonly taken in California by sport and commercial divers: pink (Haliotis corrugata), green (Haliotis fulgens), red (Haliotis rufescens), black (Haliotis cracherodii), and white (Haliotis sorenseni). Annual commercial harvests from the Channel Islands and coastal waters south of San Francisco were in the millions until numbers began to significantly decline in the 1970s. With commercial take allowed to continue, the entire fishery collapsed and was finally shut down in 1997. Sadly, the white abalone was added to the federal Endangered Species List in 2005, and the black abalone followed in 2011.
Reasons given for the collapse of California's once-abundant abalone fishery include withering disease, diminished food supply, competition from sea urchins, loss of habitat, predation, pollution, changing ocean temperatures, and reproductive issues. Successful reproduction depends on males and females of the same species being close enough so that the males can effectively fertilize the spawn released into the water by females. That can't happen when populations have been decimated and densities are reduced to the point where males and females are few and far between.
I have to believe that the two primary reasons for California's abalone catastrophe are these:
Legal commercial harvesting was allowed to continue far too long.
Illegal harvesting (poaching) has been occurring for decades and it's still going on today.
Poaching remains a tremendous drain on the fragile abalone resource. Dedicated wildlife protection officers have done everything possible to stem the tide of rampant exploitation, but warden numbers have remained far too low, while the price of abalone steaks continues to skyrocket (recently $125 a pound).
California's only remaining abalone fishery lies north of San Francisco Bay, where a limited and highly-regulated sport take of red abalone is still allowed. So, what can you do to make sure this fishery thrives and doesn't end up being closed like all of Southern California?
First, get a copy of the 2014-2015 California Ocean Sport Fishing Regulations booklet. Beginning on page 45 (Mollusks), this pamphlet will explain open seasons and hours (no diving or rock picking for abalone before 8:00 a.m.); daily and yearly bag and possession limits (yearly limit has been  changed to 18); size limit; gear restrictions (no scuba or hookah gear allowed); equipment requirements; possession and transportation requirements; and report card and tagging requirements.
Second, become involved. Our Fish and Wildlife officers need your eyes and ears if we're going to save what's left of this valuable resource. Go to your cell phone and call CalTIP(1-888-334-2258) if you see anyone you suspect of violating these regulations. Tell the person on the other end of the line what you've witnessed. Examples of possible violations include: people taking more than the daily bag limit (3); people taking undersized abalone (shorter than 7 inches); individuals leaving the water with abalone (carrying abalone up to their vehicles) and returning to take more; people hiding abalone or transferring them to others; individuals using scuba or hookah gear to move abalone to shallower waters so that others may harvest them; or people selling or offering to sell abalone in any form.
Cell phones make it easy to discreetly report suspected violations without the violator(s) knowing about it. The following information is helpful:
Description of suspected violation
Location of suspected violation
Time you witnessed the suspected violation
Description of suspected violator(s)
Description and license number(s) of vehicle(s)
Direction of travel when last seen
Your phone number
Remember, by reporting a violation, you're not only helping the game warden. You're also helping to ensure the survival of this very limited ocean resource for other law-abiding sportsmen and for future generations.
Photo of protected green abalone (Haliotis fulgens) by Chris Corbett.
This piece originally appeared in my March 23, 2014 "On Patrol" column at MyOutdoorBuddy.com.