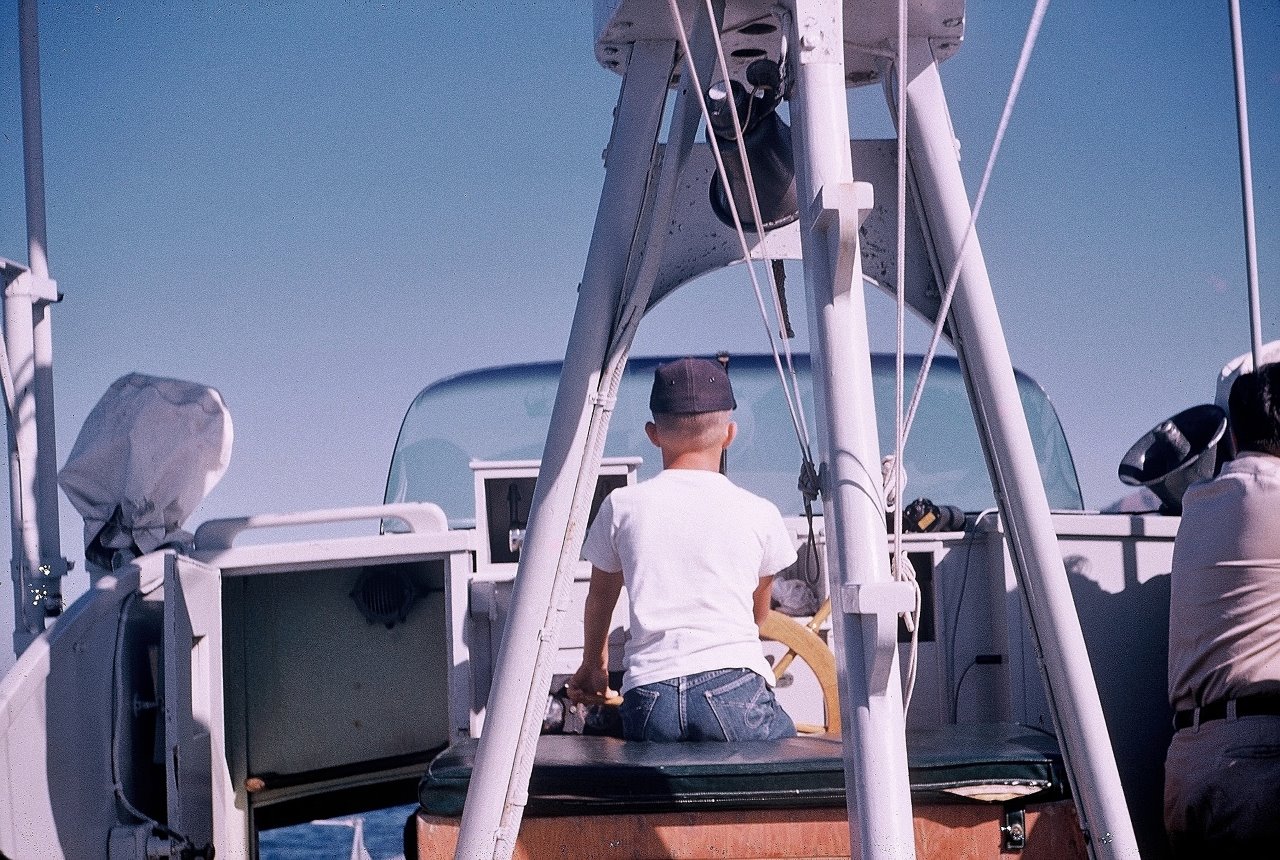 Those Amazing Elephant Seals
My first opportunity to see a northern elephant seal was in October of 1959, as an excited eleven-year-old passenger aboard the Fish and Game Patrol Boat Marlin. My father, California Fish and Game Warden Wally Callan, was the Marlin's rookie boarding officer, responsible for patrolling California's offshore waters from the Mexican border to Point Conception. The previous summer, he had returned from a patrol to San Nicolas and Santa Barbara Islands with tales of the massive elephant seals he had seen hauled up on some of the isolated beaches. I hoped to see those amazing creatures for myself on what was to be the ocean adventure of a lifetime.
I write about that 1959 trip to the Channel Islands in my upcoming sequel to Badges, Bears, and Eagles. Below is a brief excerpt:
Late that afternoon, we pulled up anchor and began a slow patrol around the north side of Santa Barbara Island, keeping a close eye out for any sign of a lobster boat.  Just beyond Shag Rock, Paul Barrens spotted a red-colored float.
"That's attached to one of Dykstra's traps," said Barrens. "It's probably the one our informant saw from the bluff."
"I see another float," shouted Captain Plett from the helm, scanning the coastline ahead. "It's near the cove where the elephant seals hang out."
"Elephant seals?" I blurted.
"Don't get excited," said my father. "They're all out at sea this time of year. You'll get your chance to see them next summer."
As it turned out, my father transferred to Northern California in 1960, and I never did get the chance to see the elephant seals−until last week, that is. Kathy and I were on a road trip down California's Central Coast, headed for a scheduled radio interview in Morro Bay. Approaching San Simeon, we noticed a hundred or more cars parked along the highway at a rocky stretch of coastline called Piedras Blancas. We pulled in to see what the commotion was all about.
"What strange sounds," I commented, walking toward the beach. Low-frequency growls echoed from the water's edge. Glug-glug-glug: They sounded like the last driblets of water gurgling down a bathtub drain, amplified a hundred times.
Coming to the barrier fence, I witnessed what I had been waiting fifty-five years to see: Over a thousand elephant seals came into view, most of them sleeping in the sand, a few harmlessly jostling in the surf. Judging from their size and the development of their famous proboscises, I figured most, if not all of them, were juvenile and subadult bulls. Don't get me wrong, some of these pinniped behemoths weighed a ton or more, but none of them had reached the massive two-ton, fourteen-foot dimensions I had seen on TV.
Once abundant on California's Channel Islands, whalers and market hunters had mercilessly slaughtered the world's northern elephant seals (Mirounga angustirostris) to the point of near-extinction by the late 1800s. Fewer than 100 animals remained in 1920, all of them on Mexico's Guadalupe Island. The Mexican government protected the remaining population in 1922. All of the northern elephant seals that exist today are genetic descendants of that tiny group that survived on Guadalupe Island.
Today, northern elephant seals are protected in the United States under the Marine Mammal Protection Act of 1972. Their numbers have steadily increased from 14,000 in 1959 to almost 150,000 in 2014. Once again, they are showing up on traditional haul-out sites along the Pacific Coast and are enjoyed by travelers and wildlife enthusiasts, like Kathy and me, from all over the world.
In addition to their traditional sites on California's Channel Islands, San Francisco's Farallons, and four of Mexico's offshore islands, northern elephant seals can be seen at Vancouver Island (Washington), Cape Arago and Cape St. George (Southern Oregon), Pt. Reyes and Año Nuevo (Northern California), and Cape San Martin/Gorda and Piedras Blancas (Central California).
You can experience the thrill of seeing these bulbous-nosed giants for yourself at any of the mainland sites along our Pacific Coast. Age groups and sexes haul out at different times of the year, so you may want to check out the elephant seal "Annual Events Calendar" put out by Scripps Institute of Oceanography. Enjoy!
This piece originally appeared in my June 24, 2014 "On Patrol"  column at MyOutdoorBuddy.com. It has been modified for posting on this blog.