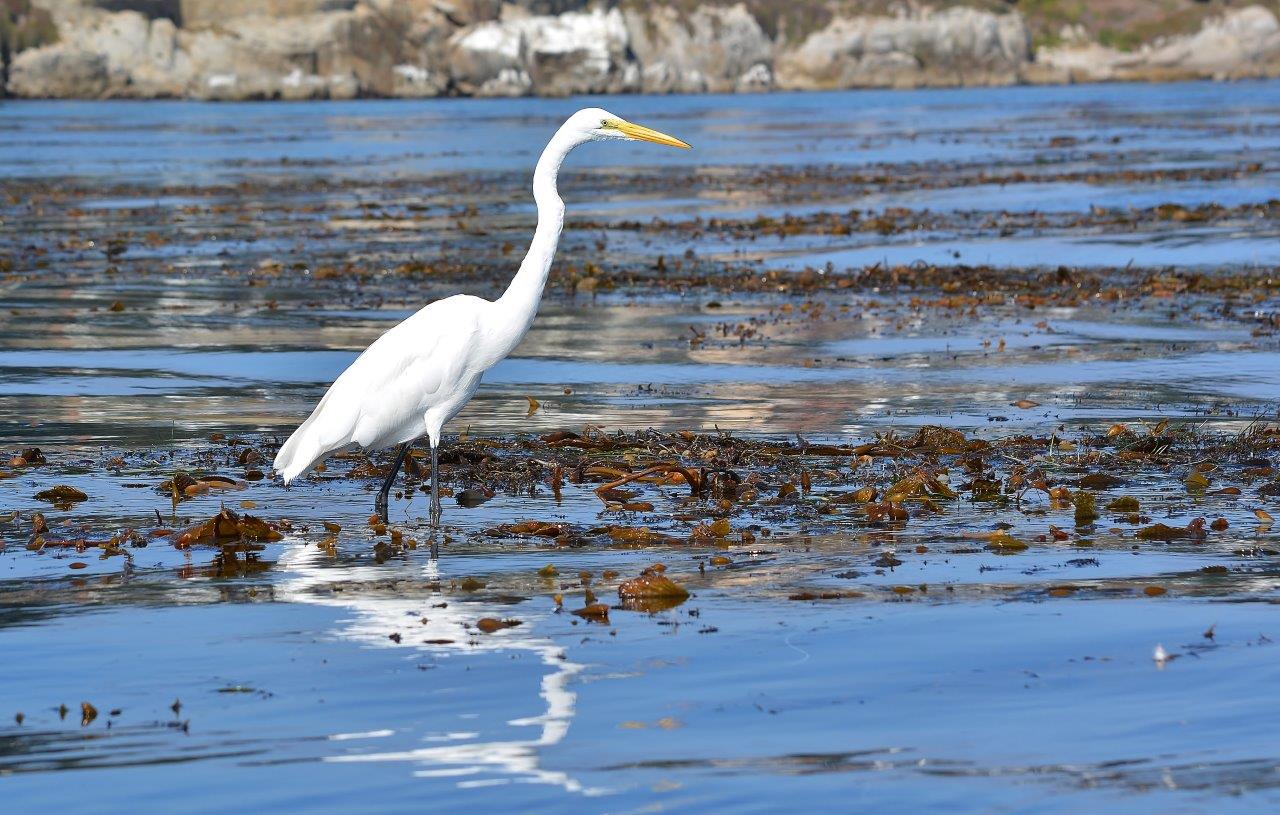 Above the Canopy
Having had the pleasure and privilege of diving in California's kelp forests from San Diego to Monterey, I would describe it as a surreal, almost religious experience—witnessing underwater cathedrals rising a hundred feet from the ocean floor to the surface canopy, bathed in dappled sunlight and teeming with life of every shape and color. Giant kelp provides food and shelter for literally thousands of mammal, bird, fish, and invertebrate species. Until recently, I hadn't realized that it also provides an abundance of wildlife habitat above the canopy.
Kathy and I spent a day in late August kayaking off the coast of Pacific Grove, a sleepy little coastal town in Monterey County, California. With a high pressure weather system in place, the ocean was unusually calm and the water was crystal clear. There had been recent reports of humpback whales venturing close to shore and surfacing near kayakers, so I prepared our camera for any opportunity that might come our way.
"This would have been a great day for diving," I said, paddling outside the cove and into the open ocean. Looking back, I noticed a harbor seal following closely behind Kathy's kayak.
"Who's your friend?" I asked.
"He's been popping up beside me ever since we left shore," said Kathy. "These little guys seem to be very curious."
Heading southwest, we entered a kelp bed the size of a small town and extending a half mile out to sea. Birds were everywhere—not just cormorants, gulls, and pelicans, as you might expect—but egrets, herons, terns, and shorebirds. I photographed a great egret that was using the floating kelp canopy as a platform for spearing snails and small fish.
"We called this seaweed when I was a kid," I said, maneuvering up and over a series of gentle groundswells.
"I think most people still do," said Kathy.
"When I think of weeds, I think of dandelions and Bermuda grass," I said. "Something as important to the ocean ecosystem as giant kelp shouldn't be called a 'weed.'"
"Did you know that kelp is a type of brown algae?" said Kathy. "It's supposed to be one of the fastest growing organisms on Earth, growing something like two feet a day."
"Always the science teacher," I said. Just then a bull sea lion surfaced in front of me. Startled by my presence, it dove immediately, splashing water on the bow of my kayak. I watched, apprehensively, as the eight-foot, seven-hundred-pound pinniped passed beneath my narrow boat, so close I could have reached down and touched his golden fur. Not exactly a whale, but exciting, nonetheless!
Further out, we spotted a flock of elegant terns perched on an isolated raft of floating kelp. The adult birds were flying off and returning with small fish for the raucous juveniles. Paddling into the wind, I reached a point within range of our 300mm lens and still far enough away so as not to disturb the birds. The trick was keeping the birds in focus long enough to press the shutter, while continually bobbing up and down in the oncoming swells. I gained a new respect for wildlife photographers.
The highlight of the day's kayaking adventure was a pair of preoccupied sea otters who had no idea they were being photographed. Bobbing up and down, whirling round and round, they wrapped themselves in the stipes and blades of the kelp canopy. I had known that otters anchored themselves in kelp to keep from floating away and becoming shark victims while sleeping, but didn't know that kelp also provided a safe haven during the mating ritual. I figured it was only fitting: sea otters are instrumental in keeping urchin numbers under control, preventing kelp forests from being wiped out by these ravenous echinoderms.
Heading back to shore, Kathy and I marveled at all the wildlife we had seen. Diving in the kelp forest would have been a fantastic experience, but exploring from our kayaks was hard to beat.
The next time you're walking on the beach and find a pile of "seaweed" washed up on shore, think about where it came from and the life-giving role giant kelp plays, not just below the ocean's surface, but above the canopy.
This piece originally appeared in my August 6, 2014 "On Patrol" column at MyOutdoorBuddy.com. Its format has been modified for posting on this blog.