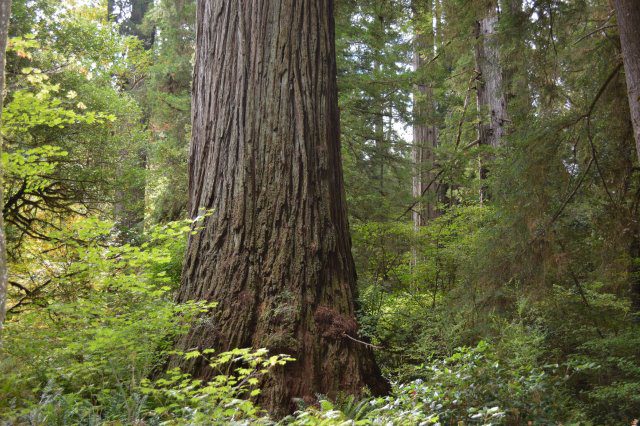 Tall Trees and Emerald Waters
Kathy and I recently attended the Outdoor Writers Association of California (OWAC) fall conference on the aptly-named Wild Rivers Coast. Stretching from Port Orford, Oregon to Klamath, California, the Wild Rivers Coast is 101 miles of incredibly beautiful coastline. Eight of America's most renowned salmon and steelhead streams course through this magical land  of tall trees and spectacular seascapes: the Sixes, Elk, Rogue, Pistol, Chetco, Winchuck, Smith, and Klamath Rivers. For an outdoor enthusiast who loves to write, paint, fish, kayak, bird watch, and walk on the beach, this may have been as close to nirvana as I will ever come.
We began our two-day conference at the Howonquet Lodge  in Smith River. The first day we enjoyed presentations from two of California's foremost outdoor writers: Chris Collard, editor of the Overland Journal, and Tom Wilmer, award-winning host of NPR's Journeys of Discovery. Later that afternoon, Redwood National and State Parks Superintendent Stephen Prokop provided a fascinating overview of the four California parks that occupy the Wild Rivers Coast: Redwood National Park, Del Norte Coast Redwoods State Park, Jedediah Smith Redwoods State Park, and Prairie Creek Redwoods State Park. That evening, OWAC's prestigious Californian of the Year award was presented to Michael Muir, great-grandson of esteemed conservationist John Muir, for his life's work of providing open space access to people with physical handicaps and limited mobility.
On the second day of the conference, Kathy and I, along with four other OWAC members, were treated to an up-close-and-personal trek through Jedediah Smith Redwoods State Park. We were led by Adam Spencer, of Redwood Rides, and his partner, Alex Kwan.
The first leg of our adventure was a bike ride amongst the world's largest trees. No exaggeration—some of the old-growth giants we had the awe-inspiring experience of standing beneath are the largest individual trees on Earth. Equally impressive is the endless list of plant and animal species that call this wonderland home, among them the majestic Roosevelt elk.
The second leg of our adventure was an inflatable kayak trip down six miles of the last major free-flowing river in California, the wild and scenic Smith; with all due respect to old Jed Smith, I think a more fitting name might be the Emerald River because of its unique color and remarkable clarity. Smiling from ear-to-ear, we bounced and splashed our way through class one and two rapids, gently paddled beneath hundred-foot rock cliffs, and witnessed lush forests displaying every color in the spectrum.
Like the nail-biting climax to an exciting movie, our trip to the Wild Rivers Coast wouldn't have been complete without seeing the mouth of the iconic Smith River. Inspired by this photographer's paradise, I captured this spectacular scene the morning we reluctantly left for home.
I've always believed that those of us living today have a moral obligation to conserve our precious natural resources for future generations. This trip opened my eyes to another very important reason for creating parks and establishing long-term protections for remaining redwood forests, scenic coastlines, and wild rivers: economic growth.
People come from all over the world to witness breathtaking seascapes; walk, bike, and kayak beneath the largest trees on Earth; and catch trophy salmon and steelhead. These visitors contribute millions of dollars to local and state economies , giving a much-needed shot in the arm to our national bottom line.
Saving these natural treasures isn't just a matter of aesthetics—it's a matter of dollars and sense!
This piece originally appeared in my October 6, 2014 "On Patrol" column at MyOutdoorBuddy.com. It has been modified for posting on this blog.