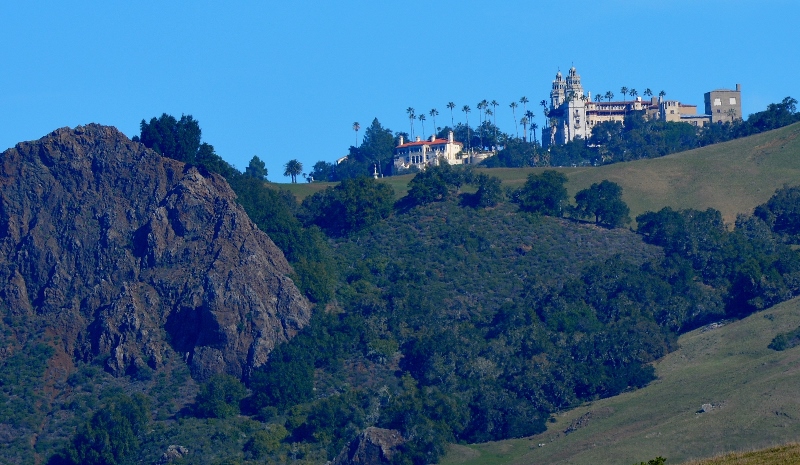 In the Shadow of the Castle
Kathy and I have always been fond of California's Central Coast. We try to make the trip down Highway 1, from Monterey to Morro Bay, at least once every year. Weather permitting, we do it during late winter, when most of the tourists are away and the gargantuan beachmaster elephant seals are rumbling up and down the shore, chasing would-be suitors from their harems.
Back in late January, I discovered a shop in Salinas that specializes in repairing twenty-year-old Sea and Sea dive cameras like mine. "Why don't we take our annual trip to the Central Coast?" I said to Kathy. "I can drop our camera off on the way." Kathy liked the idea, so we checked to see if Highway 1 was open, made motel reservations in Morro Bay, and left early on the morning of February 18.
The drive south from Carmel to Piedras Blancas is always spectacular. Winding our way past state parks with names like Point Lobos, Garrapata, Molera, Pfeiffer Big Sur, Julia Pfeiffer Burns, and Limekiln, we remained ever watchful for whale spouts out in the blue and California condors that might be soaring over the mountains to the east. We saw neither. What we did see, I'm sorry to say, was an alarming proliferation of invasive, non-native pampas grass, Cortaderia jubata, smothering the steep cliffs east of the highway. This unsightly weed, which has no wildlife value at all, is crowding out the native plants and spreading across the previously pristine landscape like wildfire.
Our spirits brightened when we spotted the San Simeon elk herd five miles north of Piedras Blancas, grazing in the same meadow where we had encountered them on August 28, 2018. That day we had counted just over fifty animals. On this sojourn, we counted seventy—most of them already shedding their winter coats. Kathy's research has revealed that these elk, along with a small herd of zebras, are non-native remnants of William Randolph Hearst's original collection. It makes sense that they inhabit the area around San Simeon, in the shadow of the famous castle.
The next morning, Kathy and I decided to hike the Morro Bay National Estuary trail. Fed by two small streams, the twenty-three-hundred-acre estuary extends from Morro Bay south to the city of Los Osos. Within the estuary are 800 acres of salt marshes and mudflats, providing important habitat for thousands of waterfowl, shorebirds, songbirds, and raptors—many of them endangered species.
Conditions were perfect on the day we visited—sixty-eight degrees, a slight breeze, low tide, and enough waterfowl and shorebirds to keep the shutter on our camera clicking for several hours. We found that shorebirds, from the largest godwits and curlews to the tiniest sandpipers, were so busy probing the mud for crustaceans, insects, snails, worms, and other small organisms, they barely knew we were there. We felt like kids in a candy store.
Just beyond the mudflats, Kathy and I were delighted to see a large flock of black brant geese. The only places we've seen more than a handful of these stately birds were Humboldt Bay near Eureka and Morro Bay during previous visits. On this particular day, the brants were resting in the bay and feeding on eelgrass.
Eelgrass, Zostera marina, is an important food source for this coastal species and probably the reason for their presence. Unfortunately, ninety-five percent of Morro Bay's eelgrass has disappeared since 2007. Estuary scientists are currently making an aggressive effort to pinpoint the causes of the decline and restore this critically important plant species. It's important to mention that seagrass, which provides habitat for fish and food for wildlife all over the world, is in serious decline. Dare I mention climate change?
Our last stop of the day was Montaña de Oro State Park, a rock's throw from the city of Los Osos. The picturesque park, with its sandy beaches, tide pools, rugged cliffs, and fields of California poppies, piqued our interest a few years back, during a writers conference in Morro Bay. I suggested at the time that we might want to try diving or snorkeling in Spooner's Cove if we happened to be in the area when visibility was good. Diving conditions were not ideal during this return visit, but there was plenty to do. After checking out the tide pools, basking in the winter sun, and taking a few photos of the scenic cove, we decided to call it the fitting end to a fantastic day.
Thursday morning found us on the Boucher Trail, just north of the Piedras Blancas Light Station. Unlike the crowded elephant-seal viewing areas to the south, the Boucher Trail was free of visitors; we had it all to ourselves. Our objective was to view and photograph elephant seals, and we were not disappointed.
Once abundant off the California coast, including the Channel Islands, northern elephant seals were mercilessly slaughtered by whalers and market hunters to the point of near extinction by the late 1800s. Fewer than 100 animals remained in 1920, all of them on Mexico's Guadalupe Island. The Mexican government protected the remaining population in 1922. All of the 225,000 northern elephant seals that exist today are genetic descendants of that tiny group that survived on Guadalupe Island.
From our vantage point at the north end of the Boucher Trail, Kathy and I watched a secluded section of beach occupied by two small groups of elephant seals. Each group contained adult females, juveniles, and newborn pups, and was under the watchful eye of a massive, bulbous-nosed beachmaster.
When the beachmasters weren't mating with one of the adult females, they catnapped in the sand. Each time an adult male tried to sneak in from the periphery and mate with one of the adult females, the beachmaster would spring into action, vocalize emphatically, and chase the intruder forty yards down the beach. What a show!
Heading south from the Boucher Trail down Highway 1, Kathy and I stopped at William Randolph Hearst Memorial State Beach. We remembered Huell Howser talking about the history of this gorgeous section of beachfront property on one of his California's Gold episodes. The Hearst Corporation donated the property and the pier to San Luis Obispo County back in 1953, and they were later transferred to the State of California. Today, as part of the state-park system, the beach and the pier are open to the public for fishing, kayaking, wildlife viewing, and other outdoor activities.
Kathy and I viewed the quiet, protected cove by walking out to the end of the pier. Both of us remarked how peaceful it was, having the entire pier to ourselves. Looking south, we feasted our eyes on miles of open space, marine terraces, and one of the most pristine beaches in California.
During our drive back to Morro Bay, I pointed to a number of hiking trails west of the highway, all of them winding through vast grassland terraces and eventually leading to the ocean. "How wonderful it is that these undeveloped lands have been saved for future generations to enjoy," I said. "Thank goodness for farsighted decision makers and California's state-park system."
"Why don't we choose one of these trails and take a hike out to the ocean?" Kathy said. She pointed to a trail leading into Estero Bluffs State Park. I pulled the car to the west side of the highway and off we went, across a windswept prairie of green grass and wildflowers leading to a rocky coastline blessed with more isolated beaches and tide pools than a person could explore in a lifetime.
Soon after leaving Estero Bluffs State Park, I felt severe pain in the lower left side of my back. Thinking I had somehow thrown my back out, I took two ibuprofen and the pain subsided.
Later that evening, after a delicious seafood dinner with our Morro Bay friends, the pain returned. This time, the pain was so severe, Kathy and one of our friends drove me to the emergency room in San Luis Obispo. Two weeks and two surgeries later, I'm finally rid of a stubborn and very painful kidney stone.
The moral of my story is this: appreciate nature, cherish your family and friends, try to enjoy every minute of your life, and drink plenty of water!