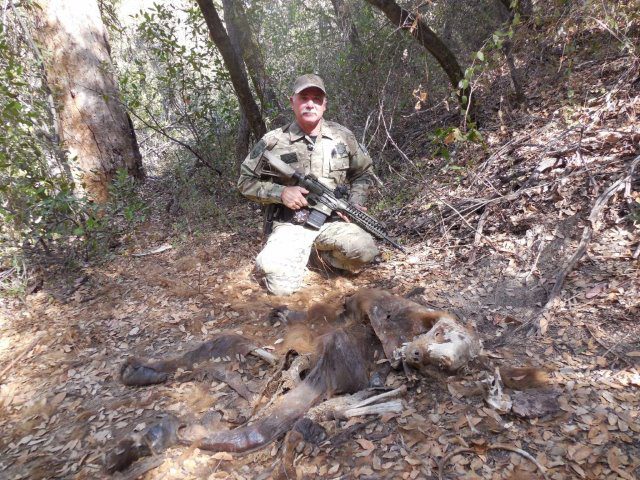 Marijuana Wars and the California DFW
Just after daylight in September 2014, four California Department of Fish and Wildlife officers and four Nevada County Sheriff's deputies quietly locked their vehicles and began what was to be an arduous hike into the bone-dry Yuba River Canyon. Armed to the hilt and decked out in standard marijuana eradication attire—full camo uniforms and bulletproof vests—the officers were prepared for any eventuality. Since becoming fully engaged in the business of eradicating marijuana grows and routinely dealing with drug cartels and dangerous criminals, DFW wardens had added a new weapon to their arsenal: the POF .308 semiautomatic rifle.
The California Department of Fish and Game first entered the marijuana eradication business about ten years ago. Wardens were recruited by county sheriffs' departments and various drug task forces to participate in the Campaign Against Marijuana Program (CAMP). Fish and Game involvement increased as other enforcement agencies became aware of the wardens' work ethic and backwoods knowledge. It wasn't long before Fish and Game officers were asked to assist with most details—a boon to interagency relations but a strain on an already understaffed warden force. Having wardens so heavily involved in marijuana eradication also strayed from the Department of Fish and Game's primary mission of protecting California's natural resources.
Out of necessity, Fish and Game's then chief of patrol decided that Fish and Game officers would provide assistance in marijuana investigations only when rehabilitation of the property was part of the detail; this would be consistent with the Department's mission. At a minimum, habitat restoration would include cleanup of pesticides, proper disposal of litter, and removal of stream blockages. Marijuana had become a serious environmental issue.
In 2012, the Department of Fish and Game—soon to be the Department of Fish and Wildlife—began taking a more proactive approach to marijuana eradication. The new chief of patrol was contacted by a group of officers with the idea of creating an environmentally focused marijuana team. This ten-person Marijuana Enforcement Team (MET) would take the lead when environmental damage caused by marijuana grows was significant and restoration efforts were necessary.
It was soon discovered that environmental damage was extensive in some California watersheds. Highly sensitive species, like salmon and steelhead, were being harmed by traditional cartel-type grows and by a growing number of additional grows that had sprung up since the passage of Proposition 215. Regulations were being ignored as streams were dewatered, diverted, and polluted. This prompted the (renamed) California Department of Fish and Wildlife to create what is now the Watershed Enforcement Team (WET); this small group of Fish and Wildlife officers, environmental scientists, a DFW attorney, and a support staff work with the California Department of Water Resources to focus on the most environmentally challenged watersheds in the state.
California's fisheries are not the only losers. The chemicals associated with marijuana grows—among them fertilizers and illegal pesticides—are having far-reaching effects on other sensitive species, such as birds of prey and fishers. A high level of poaching also appears to be associated with illegal growers: wildlife is killed for food or intentionally poisoned with toxic pesticides.
The eight-man enforcement team was following deer trails and occasional human foot tracks ever downward into the Yuba River Canyon. Wading through tick-infested thickets of manzanita, Ceanothus, toyon, poison oak, and madrone, they approached what were described as multiple cartel-type marijuana grows. The illegal grows were located along two small tributary streams that coursed through public land and into the Yuba River.
Nearing the canyon floor and within earshot of flowing water, signs of human activity increased: vegetation was trampled, branches were broken off, litter covered the ground, and a myriad of tennis-shoe tracks crisscrossed the officers' path. Wafting through the early morning air was the telltale aroma of tortillas frying in a pan and chilies simmering over an open fire.
The team spread out and surreptitiously approached, only to find that the felonious outlaws had fled, leaving their breakfast cooking on a makeshift stove. Over 1600 marijuana plants were found growing nearby. What seemed like miles of irrigation tubing were discovered, diverting water from two Yuba River tributaries into the adjacent marijuana grows. Fertilizer bags and other refuse littered the ground, along with a collection of pernicious insecticides. The hide and bones of a California black bear lay in a heap nearby. Wardens would later describe a particular pesticide found at grow sites, manufactured in Mexico and banned in the United States. Mixed with a sweet-tasting, over-the–counter stomachache remedy, this deadly cocktail was being spread around marijuana plantations by growers and lapped up by unsuspecting mammals, including bears.
Until such time as California's monumental marijuana dilemma is resolved, the Department of Fish and Wildlife will do everything possible to conserve and protect our increasingly fragile natural resources. One thing is abundantly clear: California's Fish and Wildlife warden force remains far too small to adequately handle an ever-increasing list of critical functions. We can help provide support by purchasing a 2015 California Warden Stamp  and by finding creative solutions to the Department's funding woes.
This piece originally appeared in my April 19, 2015 "On Patrol" column in MyOutdoorBuddy.com. It has been modified for posting on this blog.