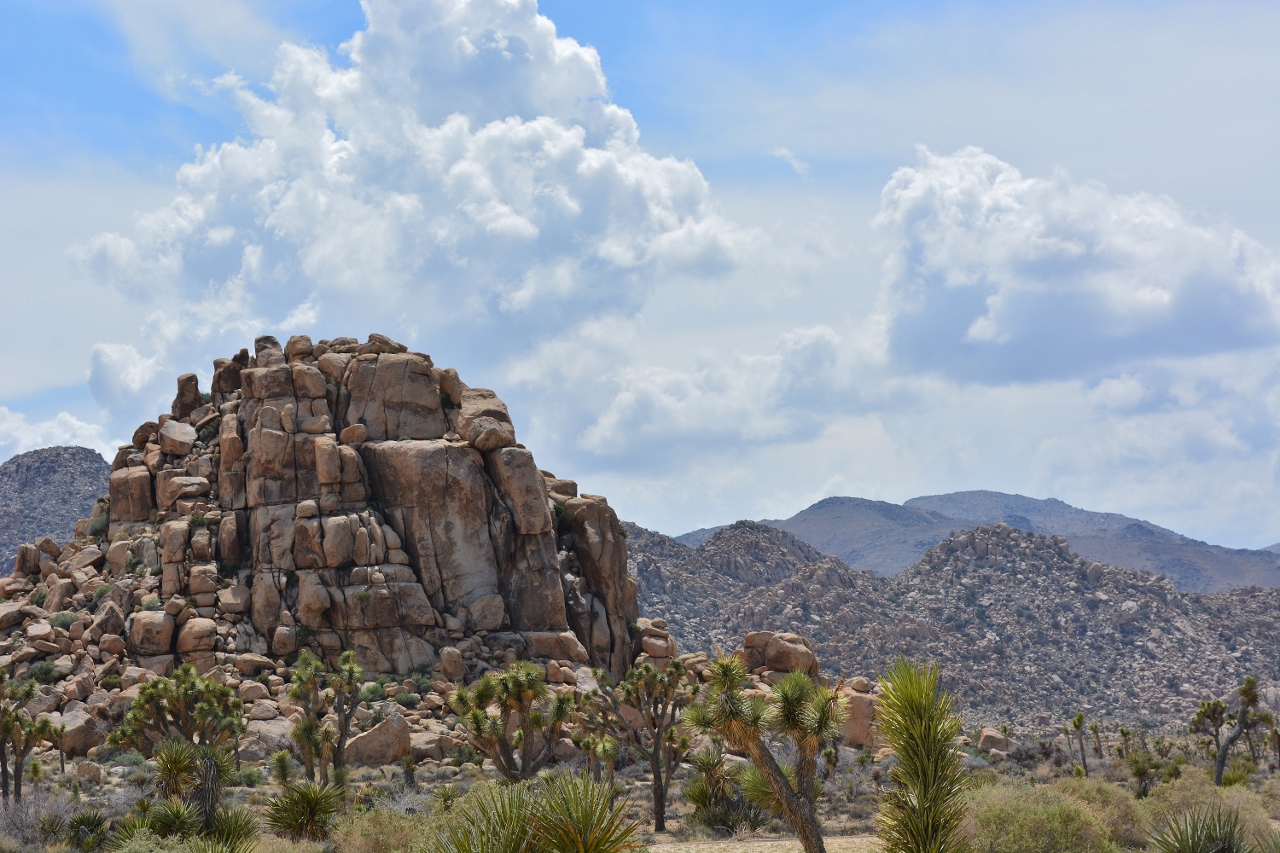 A Jewel in the Desert
In late April, before summer set in, Kathy and I decided to spend a few days in the land of blistering sands and sharp thorns. I had worked in the California desert during my early years with the California Department of Fish and Game and remain captivated by the incredible diversity of plants and animals that flourish in this seemingly barren landscape.
It was midmorning when we entered 794,000-acre Joshua Tree National Park, located 140 miles east of Los Angeles. I'm embarrassed to say that I had driven by all three entrances to the park more than a hundred times during the last forty years and never ventured inside, other than to visit the bookstore or make a donation. I had no idea what I was missing. Kathy and I remained virtually spellbound by the natural beauty of this extraordinary place—from the moment we entered the park at its southern boundary, off Interstate 10—to our reluctant departure two days later in the town of Joshua Tree, off Highway 62.
We spent the first day oohing and aahing at the amazing variety of wildflowers, butterflies, and reptiles thriving in the washes at the side of Pinto Basin Road. My two biggest concerns were running out of daylight after seeing only a small fraction of the park and not having enough space on our digital camera card for all the photographs we were taking.
Our second day began on the trail to 49 Palms Oasis—a watering hole for the local desert bighorn sheep. "What a beautiful day," Kathy remarked, as we left the parking lot and wound our way up the steep mountainside. Around every bend another breathtaking photo op awaited us—massive boulders against a backdrop of blue skies and billowing snow-white thunderheads.
"I'd give anything to see a chuckwalla," I said. I hadn't laid eyes on one of these fascinating miniature dinosaurs since I transferred to Northern California in 1981. Early in my Fish and Game career, I had become concerned about the commercial exploitation of native reptiles and initiated a successful effort to ban their sale in California. Collectors at the time were destroying habitat in a desperate attempt to bag chuckwallas for the pet trade. Crowbars were sometimes used to pry these giant-sized lizards from their protective rocky lairs. Ironically, I spotted a chuckwalla watching us from a thirty-foot rock formation, minutes after expressing my wish.
It took us over an hour to climb to the top of the mountain and traverse the narrow trail into 49 Palms Canyon—the lush, green oasis beckoning to us from a distance. "It's starting to sprinkle," I said, tucking the camera under my T-shirt. "I'm not worried about getting wet, but we don't want to ruin the camera."
"We've come too far to turn back," Kathy replied. "Let's ask this couple hiking up the trail how much farther it is."
"How are you folks doing?" I asked.
"Doing great," said a middle-aged man sporting a Los Angeles Dodgers cap. "Would you like to see what we saw down at the spring?"
"Sure!" I said. "How much farther is it?"
"You've still got a ways to go," he said, holding out his iPhone for me to see. "I think the National Park measures distance as the crow flies."
"I kinda figured that," I said. "Looks like a little diamondback."
"That's what it is," said the Dodgers fan. "It was crawling across the trail down by the palm trees."
"I hope it's still around when we get there," I said. "We'd better pick up the pace if we're gonna get to the bottom and back before the rains come."
Just above the canyon floor, a pair of black-throated sparrows landed on a nearby creosote bush. They like to hang out near desert springs, so I figured we were getting close. What concerned me were the darkening clouds and the telltale scent of impending rain. Every experienced desert hiker knows you don't want to get caught in a steep canyon or a desert wash during a rainstorm. We snapped a few photos of the fan palms growing at the spring and hightailed it back up the mountain. As luck would have it, we reached the parking lot just as the sky opened up and turned the parched landscape into a sea of flowing water.
Saving the best for last, Kathy and I explored the northwest corner of the park in the afternoon. The sky cleared and temperatures topped out in the high seventies as we hiked through the most picturesque desert landscape either one of us had ever seen—massive rock formations, incredible wildflower displays, towering Joshua trees, colorful birds like the magnificent Scott's oriole, and a few reptile species I hadn't come across in the wild for many years. We can't wait to go back!
You can learn more about this jewel in the desert by visiting the Joshua Tree National Park website.
 This piece originally appeared as my May 25, 2015 "On Patrol" column in MyOutdoorBuddy.com. It has been modified for posting on this blog.