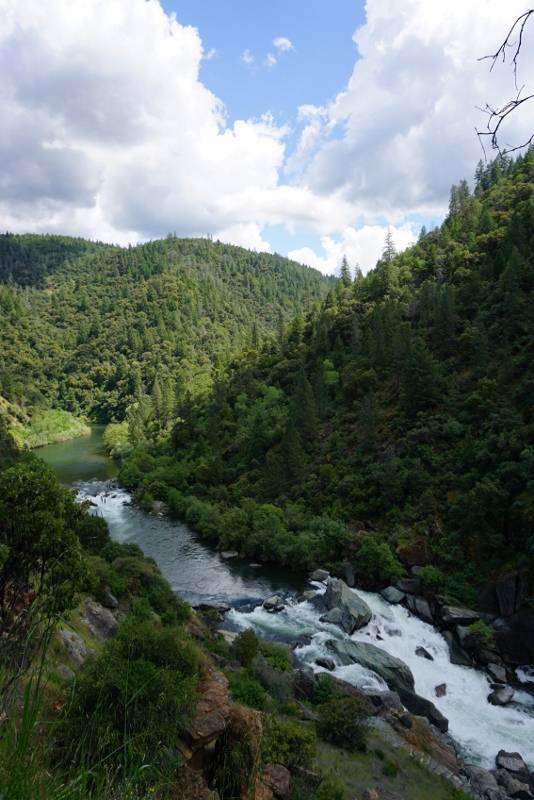 Rafting and Reflecting on the American River
When I looked at the list of outdoor activities for this year's Outdoor Writers Association of California (OWAC) spring conference, a rafting trip down the American River practically jumped off the page. "Let's do this!" I said to Kathy. "I haven't rafted the American River since 1973, when I was a graduate student at Sacramento State." I had also worked as a paid intern for the Sacramento County Board of Supervisors during that time and learned firsthand about a fledgling organization called Friends of the River. Friends of the River was mounting a campaign to stop the proposed Auburn Dam project. It seemed that certain political heavyweights were pushing to bury the breathtakingly pristine north and middle forks of the American River under several hundred feet of water. Thankfully, cooler heads prevailed and the project was eventually abandoned. Natural treasures like the American River Canyon are never completely safe, however. Like a bad cold that just won't go away, the plan to build Auburn Dam still rears its ugly head from time to time.
Fast forward to the morning of May 23, 2016. Kathy and I, along with our OWAC friends John DeGrazio, Jack Eidt, and Ron Erskine, climbed aboard the Tributary Whitewater Tours minibus and headed out for a day of excitement and high adventure.
"This is going to be great," I said to Kathy, as our bus driver navigated a seemingly endless series of bends and curves, each one leading deeper into the cavernous American River Canyon.
"Did you remember to bring your dive camera?" she asked.
"Yes, I did. I'm looking forward to trying it out on the river."
Arriving at Oxbow Put-in, just downstream from the Oxbow Reservoir, all fifteen of us exited the bus: six from our group, including Alex Boesch, a representative of the Visit Placer team; six from a group we picked up at a nearby shopping center; two guides; and the bus driver. Two rafts were quickly unloaded from the roof of the bus, and a pile of wet suit bottoms, pullover splash jackets, and plastic helmets was heaped on the ground in front of us.
What's this? I thought.  I had planned on wearing what I have on. And what's with the helmets?  It was about that time that Chris Reeves, our guide, explained that we would be rafting through Class III and Class IV rapids. The water was ice cold from snowmelt, and we would be wet for much of the day. Chris indicated, in not so many words, that cameras were welcome, but our hands and feet would be occupied. Our feet? What do we do with our feet? Our feet had to be tucked under the seats to prevent us from being hurled from the raft or washed overboard. Our hands would be busy paddling, not at will, but on command from the guide. "If I say paddle twice, paddle twice," said Chris, "and if I say lean in, you must all lean in."
I glanced over at Kathy and mumbled, "What have I gotten us into?"
Always the good sport and ready for any challenge, Kathy simply said, "We're here now."
The group from the shopping center launched first, followed by an excited and slightly apprehensive band of OWAC writers. Jack and Ron manned the bow seats, John and Alex took the middle, and Kathy and I sat in the rear. Our guide regaled us with stories about the canyon, steered the raft, and good-naturedly shouted instructions from the stern. Off we went on a sixteen-mile float through some of the most beautiful waters, riparian forests, rock formations, and steep mountainsides that any of us had ever seen. Along the way, we were treated with wildflower displays and a plethora of waterfowl sightings—mallards, mergansers, and Canada geese—all with broods in tow.
I'm not sure how much whitewater rafting experience others on board had, so I'm going to presume that we all cut our teeth on several Class II and Class III rapids, with names like Panic Alley, Carl's Crash, Jake the Ripper, and Last Chance, before testing our mettle on the notorious Tunnel Chute. Bouncing our way down a rock-strewn channel, we suddenly came to a six-foot vertical drop. "Lean in now!" instructed our guide, as we plunged over the precipice into a soup of churning waters and car-sized boulders. We all complied and held on for dear life, but when the raft righted itself, one of us was missing.
"Man overboard!" I hollered, as Ron popped up from below the surface at the starboard bow. Fortunately, he had followed instructions and held onto the safety line. Jack quickly grabbed hold of Ron's life jacket straps and pulled our water-soaked shipmate back on board.
Three miles farther downstream we encountered Kanaka Falls, another long and formidable set of Class IV rapids. Caroming off a series of half-submerged boulders, the raft suddenly flexed and catapulted Kathy into the air. "Kathy!" I shouted, reaching out with my left hand and snatching her out of midair. John, who was seated in front of Kathy, reached back and also helped pull her to safety.
"Are you all right?" I asked Kathy.
"This is fun!" she said, grinning from ear to ear.
After Kanaka it was pretty much smooth sailing for the next eight or nine miles. We had time to snap a few photos and enjoy the incredible scenery of this magical place. Just before lunch, Chris told us about a thirty-foot waterfall called Ruck-A-Chucky Falls; river guides were the only ones allowed to challenge this Class VI behemoth. The rest of us would portage over the rocks and (hopefully) meet our brave guide on the other side. "What if you don't make it through?" I joked, trying to put our guide at ease with a little humor. "How will I get my car keys back from your dry bag?" Chris and his partner came through the treacherous natural obstacle with flying colors, much to our relief.
Our next Class IV challenge was known by two different names, according to our guides. Some people called it Chunder, while others called it Texas Chainsaw.  As if that wasn't frightening enough, a fierce-looking rock, appropriately dubbed Mike Tyson, lurked in the danger zone. After going over the falls and thrashing around in the rapids, I noticed that someone was missing from the port side of the raft.  Again, I shouted, "Man overboard!" and, again, Ron popped to the surface—this time dangerously close to Mike Tyson. "Watch out for the rock!" I warned, as John grabbed Ron by the life jacket straps and pulled him to safety. 
Our rafting trip down the Middle Fork American River turned out to be much more than an exhilarating ride through sixteen miles of challenging rapids. By being one with the river, we were able to truly appreciate the awesome majesty of this special place: its sparkling waters; its riparian jungles; its magnificent rock formations; its wildlife; and the steep, forested mountainsides that make the American River Canyon so unique. For all the environmental, recreational, and economic reasons the Auburn Dam project was clearly a bad idea, it may have been a nearby seismic fault and the possibility of an earthquake that saved one of America's wild and scenic wonders from becoming just another lifeless reservoir.
This piece originally appeared as my June 10, 2016 "On Patrol" column in MyOutdoorBuddy.com. It has been modified for posting on this blog.
I'll be signing copies of The Game Warden's Son and Badges, Bears, and Eagles at the Pacific Flyway Decoy Association Wildfowl Art Festival at the Double Tree Hotel in Sacramento, on July 9-10, from 9:00 a.m. to 4:00 p.m. Kathy and I would love to see you.