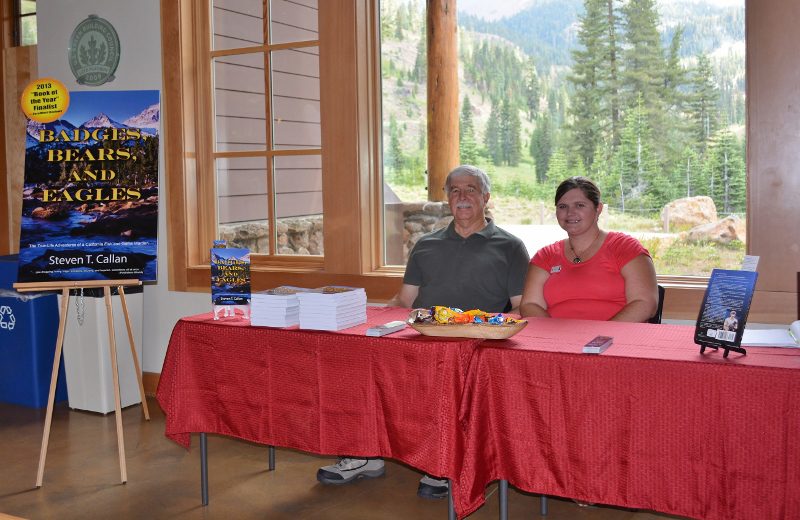 On the Road Again
Kathy and I are on the road again with Badges, Bears, and Eagles. We're having a ball!
Thank you to Melanie Allen, of the Lassen Association, and the gracious staff at Lassen Volcanic National Park  for the warm reception at my book signing last Saturday. We felt so welcome. Lassen Park is such a special place, drawing visitors from all over the world. Kathy and I enjoyed meeting and talking with wonderful people from Shasta County, Tehama County, Lake Almanor, Chester, Sacramento, the San Francisco Bay Area, Florida, and Massachusetts—all in the shadow of that magnificent mountain. What a day!
I was back in my old stomping grounds in June when I spoke to the Chico SIRs. What a great group it was, filled with warm, friendly people. Kathy and I enjoyed the thoughtful questions and interesting discussion after my presentation. Thank you for the invitation and warm welcome.
We were in the lion's den in May—the Enterprise Lions, that is! Kathy and I were impressed with the wonderful community service projects  this local group undertakes. Thank you to the Lions for their service, fantastic reception, and great questions.
During these past two and a half years on the book tour, Kathy and I have often reflected on what the best part is. The answer? Reconnecting with old friends and making new ones. Thank you for your tremendous support!